European Student Card
Registration
↵
| | |
| --- | --- |
| | What is the European Student Card? |
The "European Student Card (ESC)" is an initiative of the EU Commission with the aim of simplifying mobility for students within Europe. Students should be able to prove their status as such at any time via the ESC. At the same time, they should be able to use the advantages of their student status on the respective campus with the help of the ESC. The network is currently still under construction.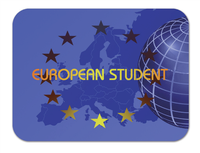 The ESC is not about special cards, but about features that are applied to the respective student card. These are a hologram issued by the EU (on the right) and a QR code that contains a URL that can be used at any time to validate the student card as valid.
In principle, each bwCard can also contain the features of the ESC. Currently, the University of Konstanz as well as the KIT participate in the initiative within the framework of bwCard and add the corresponding features to their student cards.
Learn more about the European Student Card here.
Why should I register my student card with ESC?
In order for the QR code on the ESC to reflect the correct status, you need to register your ESC centrally. The following data will be transferred to the ESC central and stored there at the so-called ESC Router (ESC-R):
E-mail address
European Student Identifier
European Student Card Number
Validity of the ESC card
This data can be retrieved by the participating institutions for validation of the card. In addition, the registration also unlocks the URL in the QR code of your card, which you can use at any time to check the status of your ESC yourself or to share it with others.

Currently, registration via this route is only possible for KIT students.