The bwCard production community
Operation of a central card management system at KIT
bwCard operates a central card management system at KIT, which is open to all scientific institutions of the state of Baden-Württemberg. The connection of universities to this system as so-called clients can be done relatively easily due to clarified processes. Thus, in accession projects, the individual business processes for issuing and managing the cards of the participating institution are implemented in cooperation with KIT. This results in synergy effects in the areas of process mapping, operation, licensing and maintenance, and procurement of consumables. The smart cards are produced on site at the facility.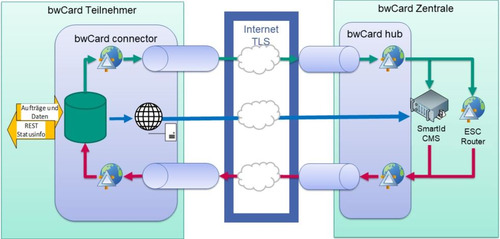 Various integration models taking into account the local systems
(via connector e.g. IDM, CampusOnline, connection HISinOne, ...)
Consideration of already existing infrastructure (e.g. InterCard)
High attention to data protection
Benefit from the expertise available at KIT (e.g. European Student Card)
Continuous further development without having to maintain own know-how
Costs can be lower, depending on current costs
If your university is interested in the production community, please contact us.